OUR CSR COMMITMENTS
"Pure Trade is a company committed to providing its clients with the best products, whilst tackling the 21stcentury sustainable development challenges. This ambition has been leading us to improve our sustainable development and CSR strategy since 2014, based on international standards such as ISO 26000, GRI and the Un Global Compact principles.
To reach the best standards of the industry, Pure Trade is willing to make no concessions in order to have a positive environmental impact and place human beings at the centre of its strategy. The continuous improvement of our practices through our membership to the UN Global Compact, the annual evaluation of our CSR policies on Ecovadis and regular follow-up by CSR consulting  testifies it.
Pure Trade promotes a "0 concessions" approach
Nevertheless, a "0 concession " approach is complex since we have to work on every area of our supply chain, which includes working with multiple stakeholders to start with our employees. Suppliers up to the forwarders, the challenges to meet our commitments answer our long-term strategy.
Today, thanks to a close collaboration with our suppliers, clients, CSR consultants and other stakeholders, Pure Trade is proud to present to you its CSR commitments and main practices. We hope our determination will be exemplary in the long term and will raise awareness of each on the role that it can and has to play."  
STEFANE LADOUS (CEO)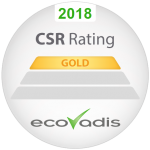 PURE TRADE'S 6 PILLARS COMMITMENTS ON CORPORATE RESPONSIBILITY
1/ Governance
Commit to continuously improve its CSR and sustainable development practices.
2/ Environnemental
Aim of being carbon neutral.
Reduce its water and energy consumption.
Aim for integration of eco design in product development.
Raise awareness and train its employees on CSR and sustainable development principles.
3/ Social
Comply to Labour Law and the ILO standards.
Increase Well-Being at work and ensure the company's code of ethics is being respected.
Enhance the employability of its employees.
Promote workplace health and safety.
Protect social mix and equal access to opportunity.
4/ Sustainable Procurement
Ensure its suppliers comply to international standards regarding Human Rights.
Support its suppliers on the improvement of their CSR strategy.
Develop sustainable sourcing solutions: biological, ecological and Fairtrade.
5/ Ethics of business
Remain informed of the latest International regulations regarding business ethics.
Fight against corruption under all its forms and the anti-competitive practices.
Implement responsible marketing practices.
6/ Philanthropy and local development
Promote employment and social inclusion for underprivileged people.
Support projects of development aid and protection of biodiversity.